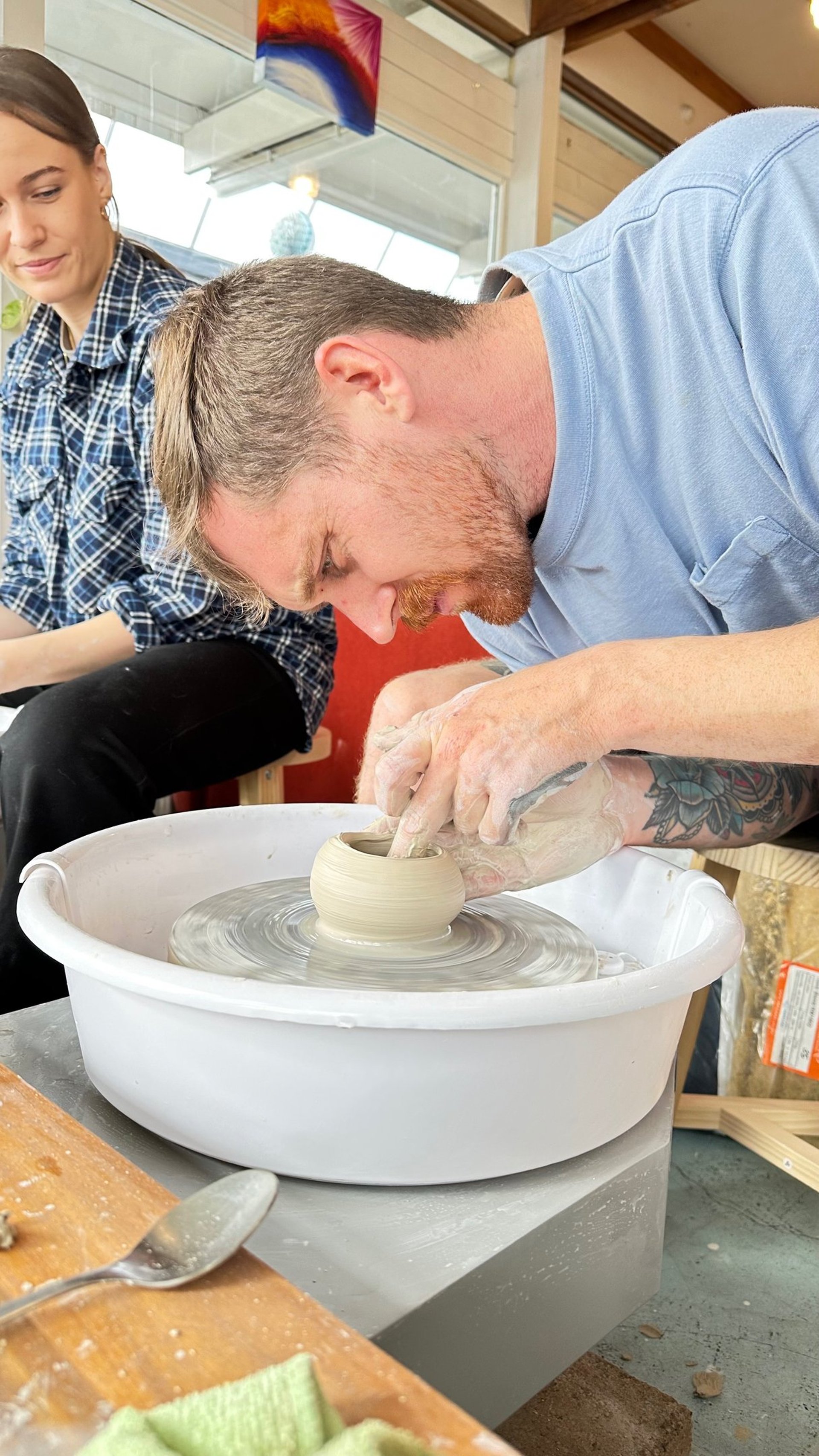 Solo Wheel Day
This is perfect for intermediate student who doesn't need assistance. There will be no wheel tutor and this is self guide.
Please check membership info. Clay must be bought in house and student must clean the wheel and tools after use. Clay, under glazing, glazing and firing is not included, price will be quoted depending on size.
SMS us at 0226911883 or email us at hello@botpotschristchurch.com if you would like to book a time and day.
Dates and Times are:
Thursdays - Fridays - Saturdays - Sundays -9:00AM - last booking is at 1:00PM for a 3:00PM finish.
**Please read our FAQ prior to booking. We are unable to offer refunds for not showing up on your desired time even due to COVID.
STUDIO PROTOCOL:
Clay
Clay must be bought in house only. Please let us know on check out comment which clay you'd prefer for throwing should you decide to buy more.

Please bring your clay home. We don't have enough space for clay to be left at the studio.

Slip and trimming scraps to bone dry clay goes into the large slip bucket. All clay must be broken up before it goes into the bucket.
UnderGlazes/Glazes (please read our firing services)
Price for underglaze and glazes are additional cost.

Please use underglazes judicially.

Make sure lids are on securely. Keep jars clean especially lids.

Be careful not to get underglazes mixed with other underglazes. Please use a different brush when applying.
Clean up
Give yourself enough time to totally clean up so you can be out at the end of class.
Clean the pottery wheel while tray is still on

Wipe all tools and the stool you used. Please use fresh water when cleaning.

Clean as much as you can and put slip from there into bucket, then proceed to clean rest of wheel. Excess clay should go in the plastic bin not in the sink.
Boards, tools and bats should be cleaned leaving no traces of clay. Return everything to its proper place.

Clear your area, leaving no glaze, clay, tools or bats on any of your work surfaces. Check your area before you leave.

Please keep studio cleaner than you found it.

Please rinse the cloth after your session.
FIRING FEE PRICING POLICY:
Cost for bisque and glaze firing will be quoted depending on the size. Price is per piece.